Over 2000 people descended into the Brewery District on December 4th, 2022 for an increasingly popular holiday tradition, Milwaukee Krampusnacht.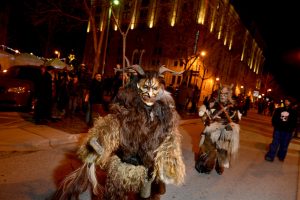 According to Alpine tradition, Krampus is St. Nick's evil counterpart. As early as the 15th century, German and Austrian children were told that if they were bad they would be visited by the hideous Krampus instead of the gift-bearing St. Nicholas. 
Milwaukee Krampusnacht celebrates this and other similar traditions like the Welsh Mari Lwyd, Italian Befana, German Belsnickel, Icelandic Yule Cat and others. The event celebrates these characters as well as local art, music, and performance.
Milwaukee Krampusnacht was held at Best Place, OnTap, Central Waters Brewery, and throughout the streets and parks in the young neighborhood that has given new life to the historic Pabst Brewery. 
I interviewed Jim Haertel (Chief Steward of Best Place) and Tea Krulos (Director of Milwaukee Krampusnacht) a few days after the event, here's what they had to say about it:
Hey Jim and Tea, thanks so much for taking the time to share your experience. How did you each get involved in Milwaukee Krampusnacht?
(T) Over the years I would see pictures and videos online of Krampus celebrations in other cities (Los Angeles, New Orleans, etc.) and I thought "that looks like fun– why isn't there one in Milwaukee?" I started talking to people and we set up a Facebook group and eventually decided to go for it in 2017. That year we held our first Milwaukee Krampusnacht at Lakefront Brewery.
(J) Tea contacted me earlier this year to consider Best Place at Pabst for their unique event. I was enthusiastic from the beginning!
It sounds like you two worked well together! What are your first memories of Krampus / Krampusnacht?
(J) When we did a German Christkindl Market at Best Place for a few years (a few years ago) I first learned of Krampus and other German traditions. 
(T) At our first year event I was just blown away about the number of people who showed up to have a good time. There were so many people that were passionate and creative about their costumes and the event in general. One thing that makes this event fun is that many of the attendees wear a costume or something festive, so the audience is really part of the show. The event has grown steadily every year. I had a friend attend this year and he said "where on earth did all these people come from?" I don't know, I guess they just heard the call of the Krampus!
I have a feeling a lot more people are going to hear the call of Krampus in years to come. Given all the known information about the origins and history of Krampus and corresponding Krampusnacht, what is unique to the Milwaukee event, and what stays true to tradition?
(T) Having a group of people dress up as Krampus (along with Saint Nick and his angel helpers) and run through a village to scare children and have fun is a very old tradition from the Alpine regions of Europe (and in other parts of Europe and the world there are similar "monster" traditions), We're glad to keep those traditions alive, but this is an event in America in the 2020s and we've expanded into a festival so things like Krampus-horned bellydancers or Puerto Wiccan (a witch hip hop artist) weren't things you'd find in the Old World but fit the "vibe" of our event.
(J) Tea and his Volunteers have made Krampusnacht rather traditional with great costumes and activities celebrating customs, but they added Family-Friendly activities, like making Krampus masks, cards to Krampus, and of course the Parade!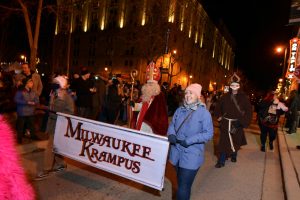 Ah yes, the parade was fantastic! Speaking of that, what was your favorite part of the 2022 Krampusnacht in The Brewery District?
(J)  Definitely the Parade!!! Of course we loved hosting portions of the event in every nook and cranny of Best Place, but the parade was awesome!
(T) Many of our attendees, even ones who live here in Milwaukee, had never been to the Brewery District and they loved the historic buildings as the setting, it really was perfect for the event. This was the first time we did the event where I noticed many people were taking pictures of the buildings themselves and not just Krampus. Having that atmosphere adds a lot, I think it would be boring if we did Krampusnacht in a bland expo or conference center. With the street shut down it was great to be able to have people move around and plenty of room for the Krampus Parade.
The Brewery District really did feel like the perfect place to host this celebration of so many traditions! Do you think there will be a 2023 Krampusnacht in The Brewery District? If so, do you think we can get a brewery in the district to make a special beer for the occasion?
(T) Yes, we would absolutely love to return to the Brewery District and are already making plans to do so. Everything went really well, next year we can improve on some things like more food options, there's definitely room to expand. I'm glad to see new businesses in the area as well – I haven't talked to them yet, but I'd like to talk to Pilot Project about working with them for a special beer.
(J) Everyone involved was thrilled with the event and the venue and all the wonderful people!  We are already planning for Krampusnacht 2023 at Best Place and the Brewery District. My wife Karen dubbed it "Krampusnacht…Christkindl Market meets Renaissance Fair meets Mardi Gras"! Pencil in Sunday, December 3, 2023, subject to verification. I think Central Waters Brewery and/or the Pilot Project Brewery would LOVE to create a Krampus Beer! Great Idea!!
For more insight into the 2022 event, check out this great article "Krampus Is the Christmas Icon We Need—And Maybe the One We Deserve" by Gemma Tarlach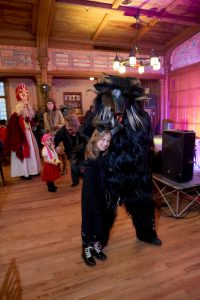 Photos by Troy Freund Photography
Written by Mark Yencheske